bitFlyer Exchange Review
bitFlyer is one of the largest Bitcoin exchanges in the world and the largest one in Japan. Licenced and regulated by the Japanese Financial Services Agency (JFSA), the platform has an annual transaction volume surpassing $250 billion. Whilst it does not offer insurance on user funds, bitFlyer is extremely safe, implementing a variety of safety and security measures to protect the platform and its users. The Bitcoin exchange, which is based in Japan, has a positive market standing and is amongst the most reputable cryptocurrency platforms available.
This bitFlyer review will describe the most significant aspects of the exchange and provide you with all the information you need, to make an informed decision. Whilst we endeavour to provide updated and factual information, details might change following the writing of this review. Therefore, we encourage you to visit bitFlyer's website to get the latest information.
| | |
| --- | --- |
| Homepage | https://bitflyer.com |
| Established | |
| Supported  Trading  Coins | Bitcoin , Ethereum , Bitcoin Cash , Litecoin , Ethereum Classic , Lisk Monacoin |
| Supported Payment Methods | bitFlyer EU supports EUR payments using credit or debit cards and SEPA bank transfers. Withdrawals in EUR currency are only possible via bank transfer |
| Supported Countries | Alabama , Alaska , Arizona , Arkansas , California , Colorado , Connecticut , Delaware , District of Columbia , France , Greece , Guernsey , Hungary , Iceland , Isle of Man , Italy , Jersey , Latvia , Liechtenstein , Lithuania , Luxembourg , Malta , Monaco Netherlands , Norway , Poland , Portugal , Romania , San Marino , Slovenia Spain , Sweden , Switzerland , United Kingdom , Japan |
| Minimum  Deposit | None |
bitFlyer is a trusted and secure Bitcoin exchange which has never been hacked and implements extensive safety measures to protect users and their funds. As a regulated exchange, bitFlyer offers multi-sig security features, SSL encrypted communication, SHA-256 technology, and two-factor authentication (2FA), amongst other, more secretive measures. All users must be verified before using the exchange, reducing the possibility of fraudsters or scams taking place.
Apart from making use of the exchange's multi-currency wallet to store support funds, bitFlyer offers a convenient way to regain access to your account in case you forget your login details. In fact, the Bitcoin exchange scores highly on safety and convenience on numerous online review sites and blogs.
bitFlyer Exchange
The bitFlyer Exchange is actually two centralised trading platforms which offer different features targeting specific markets. The Easy Exchange is, as its name suggests, the simplest platform, ideal for newbies and traders who would simply like to exchange fiat currency for cryptocurrency. Whilst the platform's features are relatively limited, with only basic charting tools available, the Easy Exchange offers a convenient way to place an order and trade Bitcoin or other digital currencies with ease.
bitFlyer Lightning Exchange is the second trading platform and is geared towards the more advanced traders and investors. Similar to a Forex trading platform, it features a variety of advanced charting and analysis tools, as well as advanced orders and limits. In addition, the bitFlyer Lightning platform offers margin trading, with up to 1:15 leverage. You can also trade Bitcoin futures and carry out spot trading.
Both cryptocurrency exchanges are available across digital devices. For smartphones and tablets, you can download the bitFlyer application for Android and iOS systems.
bitFlyer Exchange Wallet
When you open a bitFlyer Exchange account you will get access to a free, in-built wallet where you can store supported cryptocurrencies. This wallet can support Bitcoin, Ethereum, Litecoin, and other altcoins, in a secure environment whilst giving you instant access to your funds to place orders or make withdrawals. Unlike traditional cryptocurrency wallets, such as Trezor and Ledger Nano X, the bitFlyer Exchange wallet does not provide you with access to your private key. It is, therefore, recommended that you transfer funds which you do not intend to use for some time into a cold storage device.
Sending and receiving cryptocurrency using your bitFlyer Exchange wallet is very easy. If you would like to send digital tokens out of your wallet you'll need to create a withdrawal request and provide the wallet address of the recipient. On the other hand, if you plan to fund your exchange account, you will find the appropriate wallet address in your account details. When sending funds into your bitFlyer Exchange wallet, ensure that you are selecting a supported currency, since funds sent in unsupported currencies may be lost.
Here are other cryptocurrency wallets that we'd recommend you try with the services bitFlyer offers:
The Ledger Nano X is the latest hardware crypto wallet offered by Ledger and it is designed to be the Bluetooth enabled Ledger Nano S on the go.
Launched in 2015, KeepKey Wallet is one of the oldest and most secure hardware wallets. Today it is run by the ShapeShift Exchange and ranks as the third-best wallet brand in the world.
If you are looking for one of the most secure hardware wallets, capable of storing a wide variety of cryptocurrencies and offering increased functionality, Trezor is definitely your go-to wallet.
bitFlyer Exchange Account
Using the bitFlyer account is easy and intuitive, even if this is the very first cryptocurrency exchange you've ever used. Extremely user-friendly, your account is easily accessible through links at the top of each page. In case you've forgotten your password, the website allows you to reset it by entering your registered email address.
How to Sign Up on bitFlyer Exchange
The bitFlyer Exchange sign up process is simple and straightforward. Follow these steps to get started:
Visit bitFlyer and enter your email address in the middle of the page.
Click the 'Sign Up' button.
You should receive an email confirmation with a 'Verify Email' button. Click this button and a web page will open.
Enter a password of between 9 to 100 characters following the on-screen instructions. Confirm the password and press on the 'Set' button.
Agree to the terms by ticking each box.
Enter your identification details as requested.
Provide your mobile phone number and accept to receive an SMS code.
Enter this code and click on the 'Submit Now' button.
Follow the on-screen instructions to complete the account opening procedure.
How to Log in on bitFlyer
After you have created your bitFlyer Exchange account you will need to provide identification information or documents to verify your identity. As a regulated and licensed exchange, bitFlyer takes its Anti-Money Laundering (AML) and Know Your Customer (KYC) procedures seriously. If you have any difficulties to verify your account, the exchange's customer care team are always available to assist.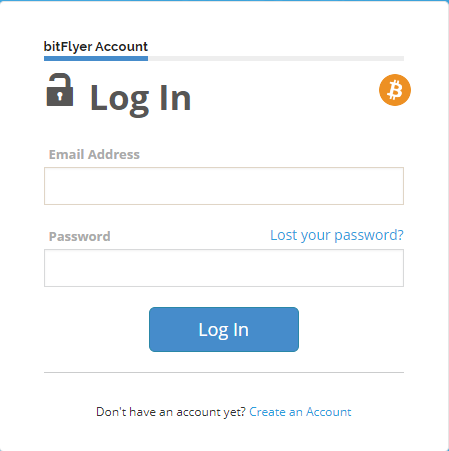 Visit bitFlyer and click on the 'Log In' button at the top right-hand side of the page.
Enter your registered email and password and click on the 'Log In' button.
Follow the on-screen instructions, such as 2FA, if you have such features enabled.
Verification Requirements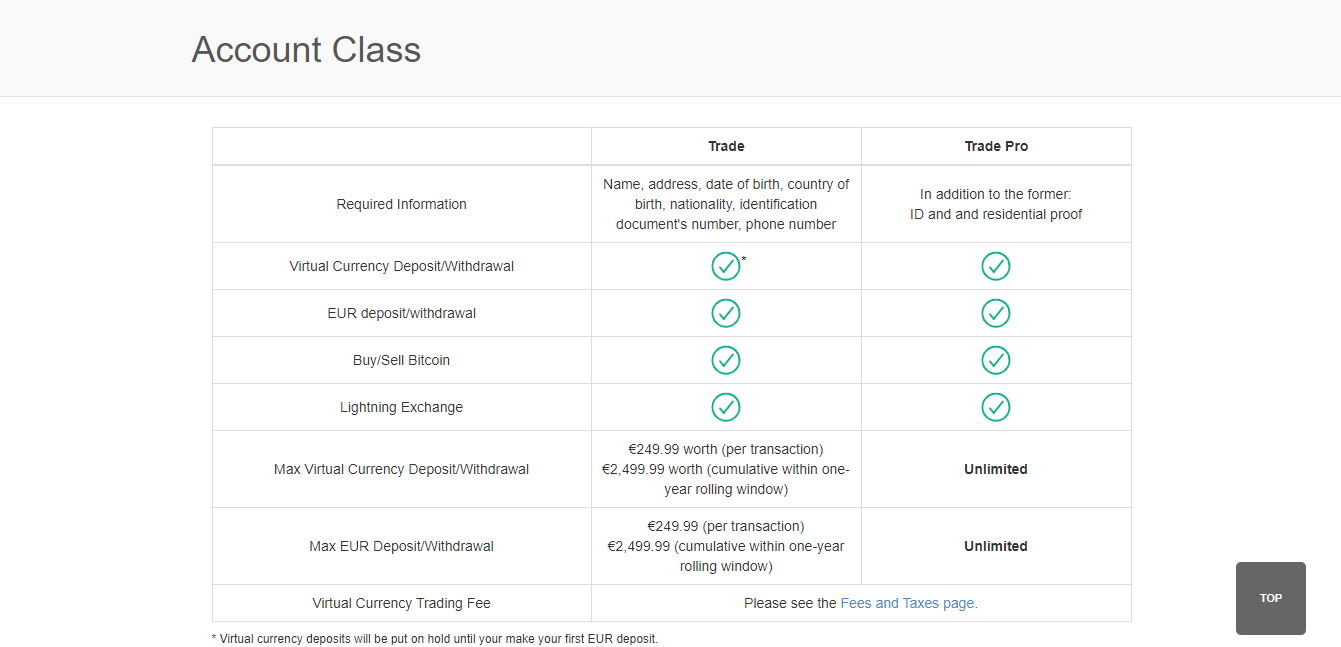 bitFlyer operates two account classes for individual accounts. The Trade class requires you to provide identification information but does not require you to submit any actual documentation. Trade Pro, on the other hand, does require documents to be submitted. These documents would normally be a government-issued photo ID and a proof of address document. The main operational difference between Trade and Trade Pro is that the latter does not feature any deposit or withdrawal limits.
How to Buy Digital Currency on bitFlyer Exchange
bitFlyer supports seven different cryptocurrencies on its platform, which you can buy using both fiat currency and cryptocurrencies. Depending on your nationality, respective bitFlyer sites let you use different fiat currencies. European residents can deposit funds in EUR using credit and debit cards or bank transfers.
Users opting for bitFlyer's Instant Buy feature need to pay a transaction fee based on the payment method chosen. Card payments are charged at 1.95% + €0.25 per transaction, whereas other payment methods are charged at 1.95% + €0.30 per transaction.
How to Trade Bitcoin (BTC) on bitFlyer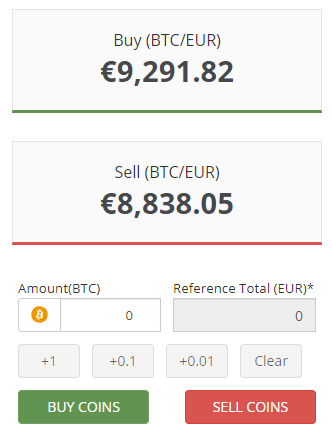 bitFlyer provides a very simple way to buy Bitcoin on the platform. All you need to do is:
Log into your bitFlyer account and click on Buy/Sell.
Check the BTC prices displayed at the top of the page.
Enter the amount of BTC you wish to buy or sell.
Click on the Buy Coins or Sell Coins button. Once you click this button you will have 6 seconds within which to Submit Order or Cancel.
As long as there are sellers selling or buyers buying as many Bitcoins as you are buying or selling, your order should be processed within seconds. If there isn't sufficient supply, your order may be partially processed.
How to Trade Ethereum (ETH) on bitFlyer
In order to trade Ethereum on bitFlyer you should:
Log into your bitFlyer account and click on Buy/Sell Altcoins.
Select Ethereum (ETH) and enter the number of coins you wish to buy or sell.
Follow Steps 4 and 5 of the Trade Bitcoin section above.
How to Cash Out on bitFlyer
bitFlyer Exchange lets you sell any of the supported cryptocurrencies on the platform. Depending on your country of residence, you can cash out using either EUR or any other supported fiat currency. You can also transfer out cryptocurrency from your bitFlyer Exchange wallet. Once you have sold Bitcoin or Altcoins using the steps above, you can cash out by following these steps:
Log into your bitFlyer account and click on 'Account Funding'
Select Withdraw EUR and tick the box titled 'Withdrawal' to this bank account. Only SEPA bank accounts are accepted if you are using the bitFlyer EU website.
Enter the amount of EUR you wish to withdraw and press the 'Proceed to Withdraw' button.
An applicable withdrawal fee will be charged, depending on the value of the transaction.
Check out our recommended crypto casinos where you can deposit Bitcoin and more once you withdraw on bitFlyer:
True Flip casino offers an exciting welcome bonus made up of a 200% match deposit and 50 free spins. Join True Flip today and benefit from the fantastic promotions this Bitcoin casino has on offer!
Start playing with ZetCasino: a charming Bitcoin casino filled to the brim with fully licensed gorgeous games, tempting welcome bonuses, and high withdrawal limits.
CasinoFair is a blockchain powered cryptocasino. If you're looking to spice up your game, CasinoFair offers new slots, table games and instant withdrawals!
Supported Cryptocurrencies
Currently, bitFlyer only supports 7 cryptocurrencies, which is a small number when compared to other major exchanges. The supported cryptocurrencies are:
Bitcoin
Ethereum
Bitcoin Cash
Litecoin
Ethereum Classic
Lisk
Monacoin
Supported Countries
In order to stay compliant with its licencing requirements, bitFlyer Exchange needs to restrict sign-ups from users in certain sanctioned jurisdictions. Different bitFlyer websites cater to different markets, and users who live in one country, such as Malta (Europe), cannot open an account with a bitFlyer website of a different country, such as bitFlyer Japan.
Supported
Through its three main websites, bitFlyer is able to support users who live in the United States, the EU, the UK and Japan.
Only users from the following states or countries can register an account with bitFlyer Exchange:
Alabama
Alaska
Arizona
Arkansas
California
Colorado
Connecticut
Delaware
District of Columbia
France
Greece
Guernsey
Hungary
Iceland
Isle of Man
Italy
Jersey
Latvia
Liechtenstein
Lithuania
Luxembourg
Malta
Monaco
Netherlands
Norway
Poland
Portugal
Romania
San Marino
Slovenia
Spain
Sweden
Switzerland
United Kingdom
Japan
————————————
In addition to reviewscenter.net will try to provide their observations and make the best review here. But this monitoring is not complete without your comments, messages and reports. So post your comments on the investment system provided at the end of each post or email reviewscenter.net@gmail.com
NOTE:
reviewscenter.net is not a financial and investment system and it never enter into the investment services's area.
Our main task is to provide the correct payment for hyips and their related data.
reviewscenter.net has no responsibility for your investments.
Do your investment with more observation and investigation.
Is bitFlyer Scam or Not?
Read articles you may want:
everything a beginner needs to know