ETFinance Exchange Review
ETFinance is an online CFD broker which offers trading opportunities in a variety of markets. Based in Cyprus, the platform is owned and operated by MAGNUM FX (CYPRUS) LTD, a company which is authorized and regulated by the Cyprus Securities and Exchange Commission (the "CySEC"). In addition to forming part of the European Investor Compensation Fund, ETFinance has built a solid reputation by offering a reliable and secure environment where to trade cryptocurrencies, indices, forex, and more.
The relatively young broker has already won the award for fastest-growing CFD broker in Europe and has teamed up with award-winning partners to offer a well-rounded solution to its customers.
This ETFinance review will cover all the important aspects of the platform, providing you with the necessary details to make an informed decision.
It is important to understand that CFDs are complex and high-risk financial instruments. When trading CFDs, there is a higher chance that traders lose money rapidly, due to leverage. 81% of retail investor accounts lose money when trading CFDs with ETFinance. You should ensure that you understand how CFDs work and be able to afford any potential losses before investing in such instruments.
Homepage
https://www.etfinance.eu
Established
Supported  Trading pair Coins
Screenshot in review
Supported Payment Methods

Debit and credit cards – such as Visa and MasterCard
eWallets – such as Neteller and Skrill
Bank transfers – such as SEPA, SWIFT, and Trustly

Supported Countries
EU, UK, Australia, and Canada.
Minimum  Deposit
€215
Is ETFinance Safe?
ETFinance is considered to be a safe and secure platform where users can store their funds with confidence. Apart from being a regulated platform, retail customers can benefit from the Investor Compensation Fund in case of theft. In keeping with European and industry best-practices, user funds are stored in segregated accounts, which means that even in case of insolvency, your funds are protected. Additionally, the platform implements a variety of security protocols, consisting of firewalls, encryption and safety audits.
ETFinance Trading Platform
ETFinance offers three different trading platforms which cater to different needs of different traders. The WebTrader platform is available online and can be accessed from any supported browser. Offering an excellent trading experience, this platform includes a variety of technical indicators and trading options. It features a highly intuitive interface, which you can conveniently get used to through the demo account, which is available for 14 days following account registration.
If you already have experience using the popular, MetaTrade 4 platform, ETFinance gives you the opportunity to continue using it whilst trading on its terms. Available on both desktop and mobile, the MT4 platform offers a wide range of charting and analysis tools, as well as convenient trading options, such as auto trading.
The third trading platform provided by ETFinance is the mobile trading application, which is available to both Android and iOS users. Free to use, the mobile app provides an engaging user experience which gives you the opportunity to trade conveniently on the go.
All three trading platforms give you the opportunity to trade a variety of Contracts for Difference (CFDs). These financial instruments provide traders with an opportunity to profit from an asset's price movements without needing to directly purchase the asset. As a result, trades can be placed faster and there is no need to store the asset securely until it is sold. Further information on these instruments can be found on our in-depth CFD guide.
In addition to trading CFDs in cryptocurrencies, commodities and forex, ETFinance also gives you the opportunity to trade forex, a variety of stocks, ETFs and a number of commodities. By using one of the three trading platforms offered by the broker, you can trade all of these instruments and markets directly.
ETFinance Platform Wallet
Since ETFinance does not let users buy or sell cryptocurrencies directly, it does not offer a cryptocurrency wallet. The platform can only accept traditional fiat currencies, such as EUR and GBP, which it stores in segregated accounts in banks or financial institutions. Whenever you open or close a trading position, the funds are taken or deposited into this wallet.
ETFinance Platform Account
The current ETFinance website is not very easy to navigate, and finding information can be quite difficult. This is disappointing, as it gives a poor first impression to new users. Finding trading fees for any market is also very difficult, with no FAQ page or help centre to assist you. In order to get information regarding payment methods and fees which are applicable to your own profile, you will need to open and verify an account.
The platform lets you open one of three possible accounts, namely Silver, Gold and Platinum. Each account is designed for a different type of trader and features different options and tools.
Creating a new ETFinance account is a straightforward process. Since the platform is regulated, it needs to fulfil certain Know Your Customer (KYC) criteria. This means that in order to verify your account you will need to submit different forms of documentation.
How to Sign Up on ETFinance Trading Platform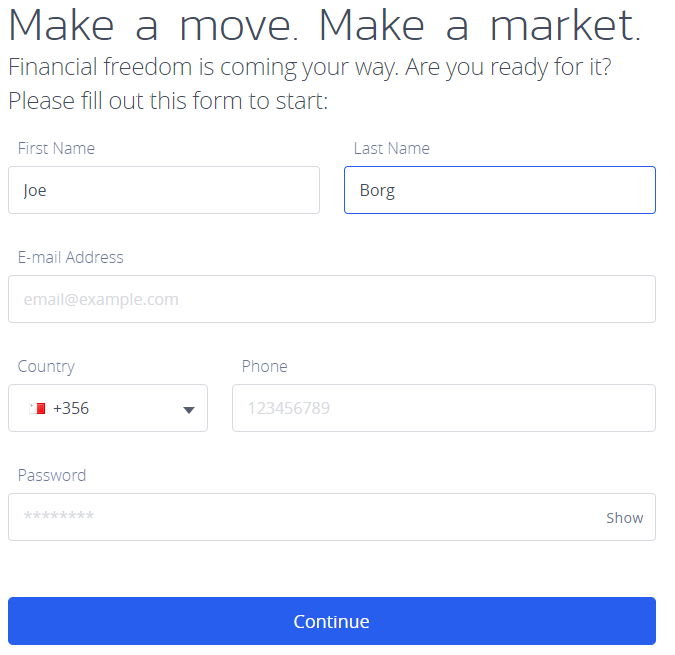 To open a new account on ETFinance, all you need to do is:
Visit the website and click on the 'Open account >>' button in the middle of the page.
Enter the required information relating to your account, including your name, email, and mobile number. Click 'Continue'.
Enter your residency address and your date of birth. Click 'Continue'
The address verification pop up will appear. Double-check that your address is correct and click 'Proceed'. Otherwise, click 'Change Address' to make amendments.
Answer in the three-page questionnaire, which is part of the platforms KYC procedure. Click 'Continue' to progress through each page.
Upload the 'Proof of identity' and the 'Proof of residence' documents. Click 'Continue'.
Select your preferred payment method and follow the on-screen instructions to make your first deposit.
Once you have completed the sign up process you should receive an email address from the ETFinance team asking you to verify your email by clicking on a link.
How to Login on ETFinance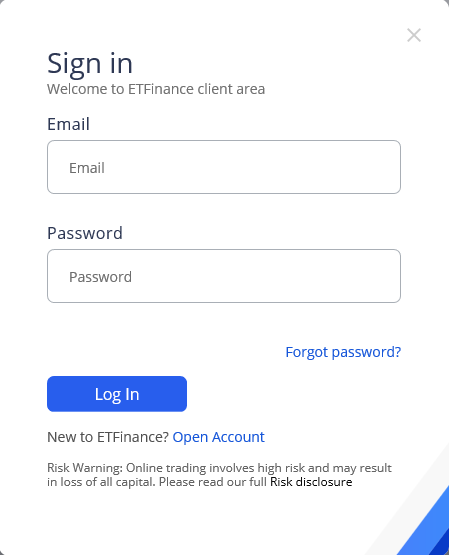 You can log into your ETFinance account at any time by following these steps:
Visit the website and click on the 'Sign In' button at the top right-hand corner of the screen.
Enter your email and password and click on the 'Log In' button.
If you have forgotten your password, click on the 'Forgot Password?' link and follow the instructions to reset it.
Verification Requirements
In order to comply with its licencing requirements, ETFinance requires that all users submit identification and residency documents in order to verify their account. This practice helps ensure that all users on the platform are genuine, lowering the risk of fraudsters. In order to verify your account you will need to upload:
Proof of identity – such as government ID, driving licence or passport
Proof of residency  – such as bank statement, residence certificate or utility bill
Payment document – such as credit card copy or declaration of deposit
The ETFinance team endeavours to check the documents and verify successful accounts within 2 business days. However, during busier periods, it may take longer.
How to Buy Bitcoin CFDs with ETFinance
Buying Bitcoin CFDs on ETFinance is easy and intuitive, no matter which trading platform you opt to use. Whilst specific instructions vary depending on which of the three platforms you choose to use, you would normally follow these steps to buy Bitcoin CFDs:
Click on the Market Watch window and select BTC. By clicking on it, its respective chart will be shown on the adjacent window.
Click on 'New Order' and enter the required information. This includes setting the 'Stop Loss' and 'Take Profit' automatic limits, which can protect you from losing a substantial portion of your capital if the price suddenly changes direction.
To place your order, click on either the 'Sell' button to short sell your Bitcoin CFDs or 'Buy' button to take a long position.
It is important to remember that CFDs are complex trading instruments which come with a high risk of losing money rapidly due to leverage. 81% of retail investor accounts lose money when trading CFDs with this provider. Hence, you should consider whether or not you fully understand how CFDs work and make an informed decision on whether you are willing to take the high risk of a substantial loss.
How to Cash Out on ETFinance
When you are ready to cash out on ETFinance, all you need to do to close an open position is:
Click on the 'Trade' tab on the trading platform.
Find the open trade and right-click on it.
From the drop-down menu which appears, select 'Close Order'.
Click on 'Close' to cash out.
With your position closed, funds are transferred into your account and can be transferred to your bank account via bank transfer or an alternative method. The only applicable cost of closing a position is the respective spread.
Supported Cryptocurrencies
As mentioned earlier, the platform does not support cryptocurrency payments and does not let you buy or sell coins like a traditional exchange. Instead, you can use fiat currency to buy and sell cryptocurrency CFDs. The platform offers an extensive selection of cryptocurrency pairs to choose from, as illustrated by the following screenshots.
Supported Countries
In order to open and verify an account with ETFinance, you need to reside within a supported country. Due to the financial instruments offered on the platform, certain restrictions apply.
Supported
ETFinance supports users from the EU, UK, Australia, and Canada. Whilst there isn't a comprehensive list of supported countries on the platform's website, you can check whether your country is supported during the initial sign up stage.
Excluded
There are very few countries which are excluded from the platform, with the most prominent being the United States of America.
————————————
In addition to reviewscenter.net will try to provide their observations and make the best review here. But this monitoring is not complete without your comments, messages and reports. So post your comments on the investment system provided at the end of each post or email reviewscenter.net@gmail.com
NOTE:
reviewscenter.net is not a financial and investment system and it never enter into the investment services's area.
Our main task is to provide the correct payment for hyips and their related data.
reviewscenter.net has no responsibility for your investments.
Do your investment with more observation and investigation.
Is ETFinance Scam or Not?
Read articles you may want:
everything a beginner needs to know