HFTrading Exchange Review
HFTrading is an online CFD trading platform that gives you the opportunity to trade a variety of financial products in a safe and user-friendly environment. The platform is owned and operated by CTRL Investments Limited, which is a New Zealand incorporated company, which is also registered in Australia. In addition, the company is authorised and regulated by the New Zealand Financial Markets Authority and the Australian Securities and Investments Commission.
HFTrading is specially designed for the markets of New Zealand and Australia. This is explained in further detail in this HFTrading review.
Homepage
https://www.hftrading.eu
Established
Supported  Trading  Coins
BTC , ETH , LTC , DASH , XRP , ETC , BTG , XLM , ADA BSV
Supported Payment Methods

Debit and credit cards – including Visa and Mastercard
eWallets – including Skrill and Neteller
Bank transfer

Supported Countries
New Zealand and Australia.
Minimum  Deposit
Varies between $250 to $300 depending on account type
More About HFTrading :
Contracts for Difference (CFDs) are a type of high-risk investment where you can benefit from an asset's price movements without owning the asset itself. This type of investment is ideally suited for day traders, or those looking for frequent, short-term trades. Cryptocurrency CFDs are an example of CFDs where the underlying asset is a digital token, such as Bitcoin, Ethereum, or Litecoin. When you trade Bitcoin CFDs you do not own the coin, so you don't need to store it in a Blockchain wallet.
This HFTtrading review will focus especially on cryptocurrency CFDs, however, you will also learn about general information, such as how to open an account and how the platform compares to others. Since information may change over time, we recommend you checking HFTrading website for any updates or changes. We will also be updating this review whenever the need to do so arises.
Since CFD trading involves leverage or margin trading it is considered to be a high-risk type of investment. It is important that you understand the risks involved and are prepared to lose some or all of your investment. If you are not able to do this, you should opt for lower-risk investment opportunities. The majority of retail clients on this platform lose money.
Is HFTrading Safe?
HFTrading is considered to be very safe, not only because it operates under two financial authority licences, but also because it implements a suite of security measures to protect users and funds. The platform has never been a victim of a successful cyber-attack, and users generally speak positively about its features and safety. Apart from utilizing SSL technology encryption on transfers, HFTrading has a powerful firewall which protects users' confidential information from hackers.
HFTrading Trading Platform
The HFTrading platform is actually split into three platforms, depending on your trading preferences. The three trading platforms are:
Award-winning MetaTrader 4
HFTrading Webtrader
HFTrading Mobile app
No matter which platform you decide to use, you will get access to the same trading opportunities, charting options and analysis tools.
Apart from cryptocurrency CFDs, you can use HFTrading to trade a variety of other CFDs, including Forex, Commodities, and Precious Metals. All of these products are available through your HFTrading account, allowing you to trade multiple products across markets from a central, intuitive interface.

HFTrading Wallet
Since HFTrading does not let you purchase cryptocurrencies, such as Bitcoin or Litecoin, there is no reason to offer a platform wallet. When you invest in cryptocurrency CFDs, you are investing in a contract, not an asset. Details of the contract's ownership are securely stored on the platform, so you don't need to worry about security or storage.
HFTrading Platform Account
Through the three trading platforms offered on HFTrading, you will be able to invest in CFDs on any digital device, including mobile. The HFTrading website provides a lot of information, however, certain details, such as fees, are not clearly displayed.
When you are opening a new HFTrading account you can choose between three different account types. These are:
Silver – designed for novice traders
Gold – designed for advanced traders
Platinum – designed for professional-level traders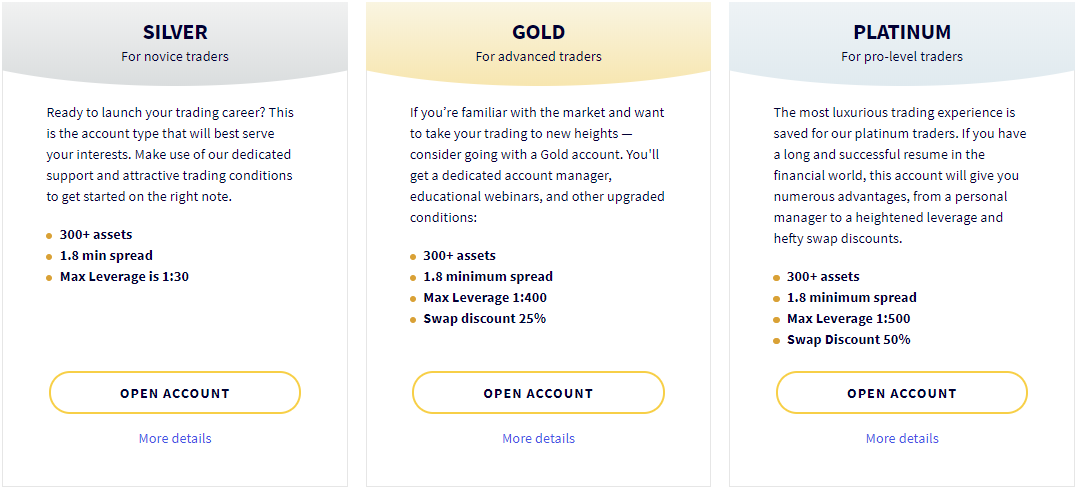 Each account type offers different tools and benefits, and each variation comes with a different max leverage. Gold and Platinum accounts benefit from a 25% and 50% swap discount respectively. You should choose the account that best suits your trading experience and preferences.
How to Sign Up on HFTrading
Creating a new account with HFTrading is fast and easy. All you need to do is:
Visit HFTrading and click the 'Open Account' button located at the top right-hand corner of the screen.
Enter the required details, including your name and email address. Before pressing 'Continue', ensure that you have ticked the box below the button which confirms that you have read and agreed to the Terms and Conditions.
Provide your home address and date of birth, and click 'Continue'.
Fill in the questionnaire, which forms part of the platform's licencing requirements.
Make your first deposit using supported payment methods.
Complete the verification by uploading necessary documents.
Steps 5 and 6 can be postponed to a later stage if required. You will only be able to trade on HFTrading once you have fully verified your account.
The HFTrading team will send you a confirmation email with a link to verify your email address. Click on this link to complete verification.
How to Log in on HFTrading
Once you have created an account you can log in at any time by following these steps:
Visit HFTrading and click on 'Login', located at the top right-hand corner of the page.
Enter the information required on the form and click 'Sign In'.
If you forget your password, click on the 'Forgot Password' link and follow the on-screen instructions to reset your password.
Verification Requirements
Screenshots are shown for illustration purposes only. Actual product may vary.
An important step in the creation and activation of your HFTrading account is verification. Know Your Customer (KYC) is criteria that helps ensure a safe trading environment. Fortunately, the platform has simplified this process into two simple steps.
Identity verification – by uploading government ID, such as a passport, ID card or driving licence.
Residency confirmation – by providing a recent bank statement, utility bill or any other official and supporting document.
The HFTrading team endeavour to verify accounts within a short period of time, normally not exceeding 48 hours. However, the process might take longer depending on workload. If you have any questions regarding verification you can get in touch with the customer care team. Ways of doing so are explained further on in this HFTrading review.
How to Buy Bitcoin CFDs with HFTrading
No matter which of the three platforms offered by HFTrading you choose, buying Bitcoin CFDs is easy and simple. HFTrading further facilitates this process by providing user instructions and tutorial videos, both of which are available for all platforms. In the following example we shall buy Bitcoin CFDs on the MetaTrader 4 platform:
Click on the Market Watch window and select BTC. By clicking on it, its respective chart will be shown on the adjacent window.
Click on 'New Order' and enter the required information. This includes setting the 'Stop Loss' and 'Take Profit' automatic limits, which can protect you from losing a substantial portion of your capital if the price suddenly changes direction.
To place your order, click on either the 'Sell' button to short sell your Bitcoin CFDs or 'Buy' button to take a long position.
CFDs are complex trading instruments that come with a high risk of losing money rapidly due to leverage. The majority of retail investor accounts lose money when trading CFDs with this provider. Hence, you should consider whether or not you fully understand how CFDs work and make an informed decision on whether you are willing to take the high risk of a substantial loss.
How to Cash Out on HFTrading
In order to cash out an open position and withdraw your funds, you should follow these steps:
Open your trading platform and click on the 'Trade' tab.
Find the trade you wish to close and right-click on it.
Choose 'Close Order' from the drop-down menu which appears.
Click on 'Close' to close your position.
Once the necessary fees have been deducted from your trade, the balance will become available in your HFTrading account. You can now proceed to withdraw some or all of your available funds from your account by following these steps:
On your user dashboard click on 'Withdraw'
Select the payment method you wish to use and the value of funds you wish to withdraw.
Follow the on-screen instructions to confirm your withdrawal.
Supported Cryptocurrencies
Currently, HFTrading supports over 30 different cryptocurrency CFDs. Here are some of the more popular cryptocurrencies it supports:
BTC
ETH
LTC
DASH
XRP
ETC
BTG
XLM
ADA
BSV
Each digital token is paired, through Bitfinex, with one of three fiat currencies, namely EUR, USD, or GBP. The following is an excerpt of all trading pairs available on the platform. The full lists of supported cryptocurrencies and crypto CFDs are available on the platform's products page.

Supported Countries
Supported
Unlike most cryptocurrency CFD trading platforms that tend to support users from most countries in the world, HFTrading is currently only available to users in New Zealand and Australia.
Excluded
As mentioned earlier in this HFTrading review, users who do not live in New Zealand or Australia are currently not supported by the platform. Residents in the EU and UK looking to trade cryptocurrency CFDs should consider joining an alternative platform, such as eToro.
————————————
In addition to reviewscenter.net will try to provide their observations and make the best review here. But this monitoring is not complete without your comments, messages and reports. So post your comments on the investment system provided at the end of each post or email reviewscenter.net@gmail.com
NOTE:
reviewscenter.net is not a financial and investment system and it never enter into the investment services's area.
Our main task is to provide the correct payment for hyips and their related data.
reviewscenter.net has no responsibility for your investments.
Do your investment with more observation and investigation.
Is HFTrading Scam or Not?
Read articles you may want:
everything a beginner needs to know
how to start investing in bitcoins