iqoption Exchange Review
IQ Option is one of the fastest-growing CFD trading platforms that offers trading in a variety of financial assets like stocks, cryptocurrencies, commodities, forex, options, ETFs, and indices. The CFD trading platform is owned and operated by IQ Option Ltd., which is registered at St.Vincent and the Grenadines. Since its launch in 2013, it has grown massively to acquire a customer base of over 25 million members worldwide.
Homepage
https://iqoption.com
Established
Supported  Trading pair  Coins

EUR/BTC (Trading Euro to Bitcoin or vice-versa)
BTC/ETH (Trading Bitcoin to Ethereum or vice-versa)
LTC/BTC

Fiat Currencies
Euro, USD, GBP, AUD, and similar currencies
Supported Payment Methods
bank transfer, credit/debit cards and electronic wallets (PayPal / Skrill)
Supported Countries

more than 50 countries worldwide including the EU, UK, Australia, Canada. Additionally, the trading platform is available in 30 different languages including Spanish, German, Italian, Portuguese

Minimum  Deposit
–
The trading platform (IQ Option Europe Ltd) is regulated and authorised by CySEC (Cyprus Securities and Exchange Commission) to operate in EU. For other jurisdictions, it is authorized by applicable laws to provide services via the Internet. Moreover, IQ Option strictly follows the standard AML (Anti Money Laundering) and KYC (Know Your Customer) policies in all the jurisdictions where they operate.
The web trading platform of IQ Option is both intuitive and accessible, to provide a seamless user experience. It provides a detailed graph/chart for users to analyze the price movements of various assets. It supports 10+ languages including Spanish, French, Italian, German and Portuguese. Moreover, IQ Option offers free practice accounts to users, allowing them to test their trading skills without the risk of losing money. In addition to the web trading platform, IQ Option is also available as a standalone desktop or mobile app.
The following review analyses several aspects of IQ Option, whilst providing you with an all-rounded detailed overview of the trading platform and its services. Although Cryptimi does its best to provide you with accurate information, whilst aiming to update it on a regular basis, we strongly recommend that you visit their site for any important updates which might occur after this review is published.
Is IQ Option Safe?
All the transactions made by users on IQ Option are protected with SSL encryption to provide better security. Nevertheless, the CFD trading platform has clearly stated in its privacy policy about the usage and sharing of users' personal data. Even though it doesn't misuse the personal information provided by users, it does share them with its affiliates, service providers or other third parties, if needed. Like most of the trading platforms, IQ Option also stores customers' funds in segregated bank accounts for maximum protection.
IQ Option CFD Trading Platform
IQ Option allows users to trade CFDs of the most popular cryptocurrencies such as Bitcoin, Ethereum, Litecoin, Ripple. Apart from cryptos, IQ Option also offers CFD trading in stocks, forex, options, commodities, indices, and ETFs  To get the full list of financial assets available on IQ Option, check out their website. The trading platform offers a practice account with a balance of $10,000 to help users learn trading skills without the risk of losing their money.
User Friendliness
The trading platform of IQ Option is simple and easy to navigate. With its elaborate graphs/charts, users can easily understand the price changes of assets from a duration of 30 minutes to 30 days. If required, you can opt to receive notifications for the following:
Price alerts
Successful withdrawal
Pending orders
CFD positions which are about to close
Rise/fall notifications of your open positions
Market news
IQ Option also offers a mobile app (Android / iOS) to help users when trading on the go.
IQ Option CFD Trading Account
The sign-up process on IQ Option is straightforward, since you need to provide only your email address to create an account. In the case of a forgotten password, IQ Option allows users to reset it. Apart from trading fees, there are additional fees which are clearly listed on the IQ Option website.
How to Sign Up on IQ Option
Follow the below steps to create your account on IQ Option: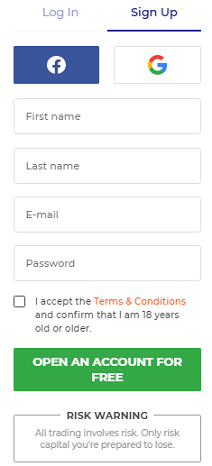 Navigate to their site and click 'Sign Up' tab.
Enter your first name, last name, username, email and password. (Alternatively, you can sign up using your existing Facebook/Google account)
After agreeing to their terms, click on 'OPEN AN ACCOUNT FOR FREE'.
Congratulations! You have successfully created your account on IQ Option. You will now be redirected to your account dashboard. Within a few minutes, you will receive a confirmation email from IQ Option. Click the link on that email to activate your account.
How to Log in on IQ Option
To log in to your account, follow the below steps: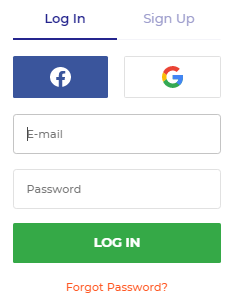 Navigate to their site and click 'Log In' tab.
Enter your email address, password and click 'LOG IN'.
After logging in to your account, you must provide your personal details and verify your phone number to start trading on IQ Option.
Verification Requirements
In order to start trading on IQ Option, you must verify your email address, phone number and provide personal information such as your full name and address. Additionally, you might be required to upload your photo. For depositing funds, you needn't submit any documents to verify your identity. However, you need to undergo the verification process for withdrawing funds from your account. Therefore, you must upload a copy of your passport or driver's license.
Apart from this, you should also provide proof of your payment card. For example, if you have used a credit/debit card to deposit funds, then you should upload a copy of both sides of your card. (Please remember that you should hide your CVV number and keep visible the first 6 and the last 4 digits of your card number only). For e-Wallets like Skrill, uploading your ID is sufficient.
How to Buy or Sell Bitcoin CFDs with IQ Option
Before buying/selling CFDs, you should have verified your account and deposited the required funds.
How to Deposit Funds on IQ Option
Follow the below steps to deposit funds on your account. The minimum deposit is 10 EUR/GBP/USD.
Log in to your account and click 'Deposit'
Select your payment method.
Enter the deposit amount and select your currency (EUR/GBP/USD/RUB).
Click 'Proceed to Payment'.
Follow the on-screen instructions and fill all required fields to complete the payment. Once your transaction is completed, your funds will be credited to your account.
Now, follow the below steps to buy/sell Bitcoin CFDs on IQ Option:
Log in to your account and click 'Trade Now'.
Enter the amount, select 'multiplier' or 'leverage' from the drop-down box. Then, select the order type as well.
Follow the on-screen instructions to complete your order. Once your transaction is completed, you can check the status of your asset under 'Total Portfolio'.
Warning: Trading CFDs carries a high level of risk since leverage can work both to your advantage and disadvantage. As a result, CFDs may not be suitable for all investors because it is possible to lose all of your invested capital. You should never invest money that you cannot afford to lose. Before trading in the complex financial products offered, please ensure to understand the risks involved.
How to Cash Out on IQ Option
Even though IQ Option supports multiple payment options, your withdrawal method will depend on the deposit method. For example, if you had used an e-wallet (like Skrill) to deposit funds, you will only be able to withdraw to the same e-wallet account. The minimum amount for withdrawal is $2, whereas the maximum limit for withdrawals is set to  $1,000,000 per day. Refer to the Platform Fees and Limits section of this post to fully understand withdrawal fees.
Follow the below steps to place your withdrawal request:
Log in to your account and click 'Withdraw Funds'.
Enter the amount of withdrawal and select your payment method.
Click 'Withdraw Funds'.
The processing time of your withdrawal request is approximately 1 day for e-Wallets and 3 business days for bank transfers. Once your order has been processed, your funds will be credited to your account depending on the processing time of your bank or card provider.
Supported Cryptocurrencies
At the time of writing, IQ Option supports trading the following cryptocurrency CFDs:
Bitcoin (BTC), Ripple (XRP), Ethereum (ETH), Litecoin (LTC), Dash (DASH), Bitcoin Cash (BCH), OmiseGo (OMG), Zcash (ZEC), Qtum (QTUM), TRON (TRX), Stellar (XLM), NEO (NEO), Cardano (ADA), NEM (NEM).
To get the latest list of cryptocurrencies supported by IQ Option, kindly check out their website.
Supported Countries
Supported
Except for the countries listed in the below section, IQ Option is available for all countries including UK, Switzerland, United Arab Emerites, Qatar, New Zealand, Netherlands, South Africa, Spain, Sweden, Singapore, Saudi Arabia, Portugal, Oman, Mexico, Malaysia, Italy, Germany, Bahrain, Hong Kong, Austria, Chile, Colombia, Cyprus, Crech Republic, Denmark, Finland, Luxemburg, Poland, Argentina, Bulgaria, El Salvador, Greece, Ireland, Latvia, Malta, Romania, Slovakia, Sweden, Poland.
————————————
In addition to reviewscenter.net will try to provide their observations and make the best review here. But this monitoring is not complete without your comments, messages and reports. So post your comments on the investment system provided at the end of each post or email reviewscenter.net@gmail.com
NOTE:
reviewscenter.net is not a financial and investment system and it never enter into the investment services's area.
Our main task is to provide the correct payment for hyips and their related data.
reviewscenter.net has no responsibility for your investments.
Do your investment with more observation and investigation.
Is iqoption Scam or Not?
Read articles you may want:
everything a beginner needs to know