Plus500 Exchange Review
Plus500 is one of the leading trading platforms specialising in 
Contracts for Difference
. The platform offers investors an opportunity to access various markets, including Shares, Indices, Forex, Cryptocurrencies, ETFs, Options, and Indices. The platform is owned and operated by Plus500 CY Ltd, a subsidiary of Plus500 Ltd, which is 
listed on the London Stock Exchange's Main Market
.
Plus500UK Ltd is 
authorised and regulated
 by the FCA (Financial Conduct Authority). Plus500CY Ltd is authorised and regulated by CySEC (Cyprus Securities Exchange Commission) and is headquartered in Limassol, Cyprus.  Plus500AU Pty Ltd is regulated by the Australian Securities and Investments Commission and licensed by ASIC in Australia. Plus500SG Pte Ltd holds a capital markets services license from the Monetary Authority of Singapore for dealing in capital markets products. Plus500IL Ltd is registered in Israel and 
licensed to operate a trading platform
.
| | |
| --- | --- |
| Homepage | Plus500.com |
| Established | |
|  Supported Trading Coins | Bitcoin (BTCUSD) , Ethereum/Bitcoin (ETHBTC) , Ethereum (ETHUSD) , Crypto 10 Index (Crypto10) , Litecoin (LTCUSD) , NEO (NEOUSD) , Ripple XRP (XRPUSD) , IOTA (IOTUSD) , Monero (XMRUSD) , Stellar (XLMUSD) , EOS (EOSUSD) , Bitcoin Cash ABC (BABUSD) , Cardano (ADAUSD) , Tron (TRXUSD) |
| Supported Payment Methods | Credit/Debit cards (VISA/Master) , Bank Transfer , PayPal , Skrill |
| Supported Countries | EU, United Kingdom (UK), Australia, Switzerland, United Arab Emirates, Qatar, New Zealand, South Africa, Singapore, Saudi Arabia, Oman, Mexico, Malaysia, Bahrain, Hong Kong, Chile, Colombia, Israel, and Argentina. |
More About Plus500:
The company conforms with the UK Financial Conduct Authority's client money protection rules, which means that it doesn't use clients' funds for hedging or other purposes. Instead, it keeps clients' assets in segregated bank accounts, protected under the Financial Services Compensation Scheme. The Plus500 CFD trading platform offers its services to members around the world through different regulated subsidiaries. The web trading platform of Plus500 supports 30 different languages including Spanish, French, Italian, German, and Portuguese.
The trading platform itself is both intuitive and user-friendly, providing a seamless user experience. Plus500 offers a portfolio of over 2000 CFD instruments, including cryptocurrencies. It even allows users to buy and sell a Crypto10 CFD index which follows price movements of the top 10 cryptocurrencies. Moreover, the platform offers a free demo account, allowing investors to test and improve their trading skills without the risk of losing any money.
The following Plus500 review analyses all the main aspects of the CFD trading platform. Although Cryptimi does its best to provide you with accurate and updated information, we strongly recommend that you visit their website to find out about any significant updates which might have taken place following the update of this review.
Is Plus500 Safe?
Plus500 claims that all personal information (credit card numbers, CVV, password, and so on) provided by users are automatically transferred by SSL (Secure Socket Layer) to a secure environment. Also, Plus500 offers Client Money Protection since it does not use client funds for hedging or other investments. It securely stores users' funds in segregated client bank accounts as per the compensation scheme regulations.
Plus500 CFD Trading Platform
Plus500 allows users to trade CFDs of the most popular cryptocurrencies, including Bitcoin, Ethereum, Litecoin. The platform also offers traders the opportunity to invest in less popular digital currencies, including NEO, IOTA, and Monero. Moreover, with Plus500 you get the exclusive opportunity to invest in the CFD named Crypto 10 Index.
Beyond just cryptocurrencies, Plus500 offers CFD trading in several other markets, including shares, indices, forex, options, commodities, and ETFs. The full and updated list of instruments available on the platform is available on their website.
Since trading cryptocurrency CFDs does not involve purchasing the asset, you don't need to own a wallet to store them in. What's more, when trading on Plus500 you get access to 1:2 leverage when trading cryptocurrencies and you can start with as little as €100.
User Friendliness
When it comes to navigation, the Plus500 trading platform is easy and intuitive. It even provides a convenient option to configure real-time alerts for price movements of your preferred instruments. Essentially, the platform offers three types of alerts:
Price Alert – to stay informed when an instrument reaches a specific Buy or Sell price.
Change (%) – to get notifications when an instrument's absolute price change (positive or negative) reaches a certain level.
Trader's sentiments – where notifications will be sent when the percentage of buyers or sellers reaches a certain level.
Plus500 also offers a mobile app (Android / iOS ) to help users for trading on the go.
Plus500 CFD Trading Account
The Plus500 sign-up process is straightforward since you only need to provide an email address to create an account. Apart from trading fees, there are additional fees which are clearly listed on the website. Additionally, Plus500 allows users to conveniently reset their password, in case they forget it.
How to Sign up on Plus500
Follow the below steps to create your account on Plus500.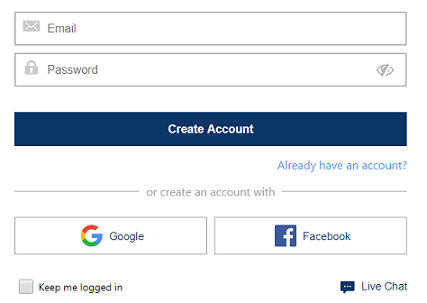 On the Plus500 main page click 'Start Trading'.
Next, select 'Real Money' (unless you would like to start with a demo account, in which case select 'Demo Mode').
Enter your email address and password and click 'Create Account'.
Congratulations! You have successfully created an account with Plus500. You should receive a confirmation email in your inbox shortly afterwards.
How to Log in on Plus500
To log into your account, follow the below steps.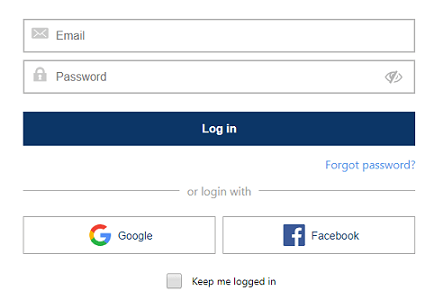 Visit the Plus500 main page and click on 'Log in'
Enter your email address, password and click 'Log in'
After logging in to your account for the first time, you must provide your personal details and upload the required documents to verify your identity. Once completed successfully, you will be able to start trading on Plus500.
Verification Requirements
In order to start trading on Plus500, users need to verify their account by submitting all the required documents. Since Plus500 follows a strict KYC (Know Your Customer) policy, it needs to verify the personal information, including the date of birth and other valid contact details of all of its clients.
To verify your identity quickly, upload a government-issued identification document which contains all the necessary information. For verifying your residential address, you can upload a copy of a recent utility bill, bank or credit card statement, phone or internet bill and/or a tax letter.
Some jurisdictions accept electronic verification while others require users to provide a hard copy of their documents. Plus500 also asks for users to upload a copy of the bank statement or the front of their debit/credit card, to verify a user's source of funds. Whilst all this information may seem like a hassle, Plus500 must comply with strict due diligence requirements in order to maintain its licences and keep all users safe.
How to Buy or Sell Bitcoin CFDs with Plus500
Follow the below steps to buy or sell Bitcoin CFDs on the Plus500 trading platform. Before placing your order, ensure that you have sufficient funds available in your account.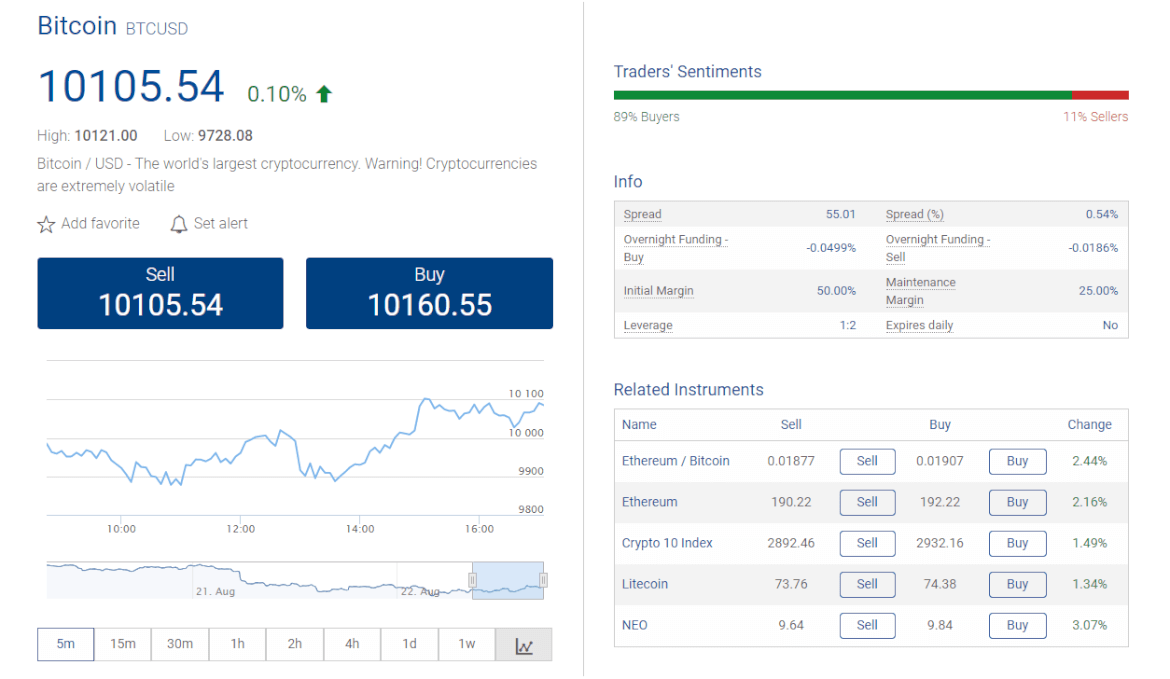 How to Deposit Funds on Plus500
Follow the below steps to deposit funds on your account. The minimum amount of deposit varies depending on your chosen payment method. For example, you need to deposit a minimum of €100 if you are using credit or debit cards.
Log in to your account and click 'Menu'-> Funds Management->'Deposit'.
Select your desired payment method from the list of options (i.e. PayPal, Skrill, Bank Transfer, Credit/Debit card).
Enter the amount of your deposit (ensuring that the deposit amount is within the minimum/maximum limits displayed on your screen).
Fill in all the required fields. Be sure to provide your card number, expiry date and CVV, in case you select credit or debit cards as your payment option.
Click 'Make a deposit'.
You should see a confirmation window with the message 'Your deposit was approved!'. Depending on the processing time of your payment provider, funds will be credited to your Plus500 account.
Whilst still logged in to your account, you can now proceed to buy Bitcoin CFDs on Plus500. All you need to do is:
Click Trade –> Cryptocurrencies.
Here, you will see the full list of CFDs on cryptocurrencies. Click 'Buy' or 'Sell' button when you come across the Bitcoin icon.
Now, a window will appear on the right-hand part of your screen with several fields. Enter the number of contracts, and optionally, set profit and/or stop-loss levels.
The required margin for the position will be displayed on your screen. You need to make sure that you have sufficient funds in your account to meet the margin amount. Otherwise, you can adjust the number of contracts accordingly.
Click 'Buy' or 'Sell' to open a position. You would initially sell a Bitcoin CFD if you are planning to short Bitcoin.
Once your order is processed, real-time information about your open position such as required margin, Profit/Loss will be updated. To close a position, just click the 'Close' button that appears next to an open position.
————————————
In addition to reviewscenter.net will try to provide their observations and make the best review here. But this monitoring is not complete without your comments, messages and reports. So post your comments on the investment system provided at the end of each post or email reviewscenter.net@gmail.com
NOTE:
reviewscenter.net is not a financial and investment system and it never enter into the investment services's area.
Our main task is to provide the correct payment for hyips and their related data.
reviewscenter.net has no responsibility for your investments.
Do your investment with more observation and investigation.
Is Plus500 Scam or Not?
Read articles you may want:
everything a beginner needs to know
how to start investing in bitcoins