ROInvesting Exchange Review
ROInvesting is a multi-platform trading powerhouse that specializes in Contracts for Difference (CFDs). It is owned and operated by Royal Forex Limited, a company which is based in Cyprus and duly authorised and regulated by the Cyprus Securities and Exchange Commission (CySEC). In line with its operating licence, ROInvesting forms part of an Investor Compensation Scheme. Whilst some client exceptions do apply, this is generally seen as an additional benefit to choosing this platform over another which doesn't offer such protection.
ROInvesting was born from a simple idea: harness all the benefits of technology to create the most favorable experience for traders of all levels. We employ the latest innovations not only for our trading platform but also for our service, education center, analysis tools, market alerts, and many other products. If you're an ambitious person looking for a platform that collects all the benefits under one roof, it's definitely ROInvesting.
| | |
| --- | --- |
| Homepage | https://www.roinvesting.com |
| Established | |
| Supported  Trading Pair Coins | BTC/EUR , ETC/GBP , ETH/USD , IOT/USD , NEO/USD , LTC/EUR , XRP/GBP |
| Supported Payment Methods | Debit/credit cards – such as Visa and MasterCard ,eWallets – such as Skrill and Neteller , Bank transfers – such as SEPA and SWIFT |
| Supported Countries | EU, UK, Canada or Australia |
| Minimum  Deposit | None |
More About ROInvesting :
This ROInvesting review will provide you with an all-rounded description of what you can expect from the platform. Whilst every effort has been made to provide updated information, changes may occur. As a result, we highly recommend you visit ROInvesting before signing up to this platform.
Is ROInvesting Safe?
There are several reasons why ROInvesting is considered to be a safe platform where you can trade and store your funds. Since it is regulated, the platform must comply with several safety and security requirements, which include account segregation. This means that the company cannot use client funds to pay for administrative or operational expenses.
In addition, ROInvesting has installed firewalls and Secure Sockets Layer (SSL) software that protects data during communication. The platform's trading servers are physically located within SAS 70-certified data centres, and all transactions are moderated under Level 1 PCI compliance services.
These and other confidential measures ensure that ROInvesting provides a safe trading environment. As a result, the platform has never been a victim of a successful cyber-attack, and it maintains a reputation for safety and reliability.
ROInvesting Platform
ROInvesting offers three platform options to choose from, depending on your preferred method of trading. If you already have knowledge and experience using the award-winning MetaTrader 4 platform, you will be able to use it with an ROInvesting account. Alternatively, you can opt for the ROInvesting Webtrader or Mobile App. Whilst the website advertises both an Android and iOS app, we could not locate the iOS version at the time of writing.
The platform specialises in CFDs – advanced financial instruments that allow traders to benefit from an asset's price movement without owning the asset itself. There are several advantages to trading CFDs over trading assets, including efficiency. Cryptocurrency CFDs are becoming increasingly popular among traders since you don't need to own Bitcoin or Altcoins in order to profit from their price changes. In addition, by investing in Bitcoin CFDs instead of actually buying the coin, you don't need to worry about storing it securely.
Cryptocurrency CFDs are just one of several markets offered by ROInvesting. With a single account on this platform, you will be able to trade Forex CFDs, along with Indices, Stocks, Commodities, Metals, and ETFs. Depending on the market and corresponding asset, ROInvesting gives traders access to leverage, which allows you to open larger positions by borrowing funds.
Investing in CFDs is considered to be a high-risk investment since leverage magnifies your potential losses. Before you start trading CFDs you must be aware of the risks involved and be able to afford any resulting losses. If you are not ready or able to handle these risks you should consider alternative, lower risk investment opportunities. 86% of our retail investor accounts lose money when trading CFDs.
ROInvesting Wallet
With a ROInvesting account, you can store fiat currency in between trades. Since the platform does not allow you to buy or sell cryptocurrencies directly, it does not offer a cryptocurrency wallet. Similarly, you are not able to send or receive digital tokens on your account.
ROInvesting Platform Account
The ROInvesting website is intuitive and user-friendly. With a few clicks, you can get easy access to view the platform's fees, legal documents, and market information. Creating and accessing your account is equally easy.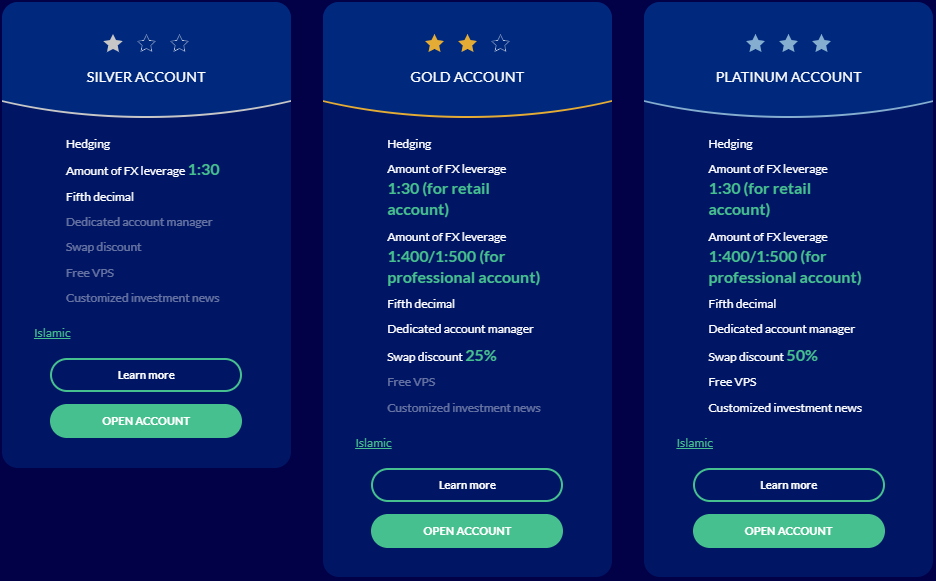 For retail customers, ROInvesting offers three distinct account types:
Silver: the most basic of all three accounts, offering FX leverage of 1:30 only, and fifth decimal trading.
Gold: FX leverage goes up to 1:400/1:500 for professional accounts, and also features a swap discount of 25%.
Platinum: FX leverage also goes up to 1:400/1:500 for professional accounts. Features a swap discount of 50%, free virtual private server, and also personalized investment news.
Each type would suit the trading preferences of different traders by offering a variety of benefits, including increasing leverage and swap discounts. In addition to these retail accounts, you can also apply for a professional account, as long as you fulfill certain criteria.
How to Sign Up on ROInvesting
In order to create a new account on ROInvesting, all you need to do is:
Visit ROInvesting and click on the 'Open Account' button located on the top right-hand corner of your screen.
Enter your details as requested on-screen, including name, mobile number, and email address. Click 'Continue'.
Provide your date of birth along with your address. Once you click 'Continue', a pop up will appear, requesting you to confirm your address.
Answer the questionnaire questions. These questions are in line with regulatory requirements set out by CySEC.
Provide your tax information and confirm whether you are a Politically Exposed Person (PEP) or not.
At this point, your account has been created but is yet to be verified. In order to complete this step, you need to provide identification documents. More information on these is provided in the 'Verification' section of this ROInvesting review.
How to Log in on ROInvesting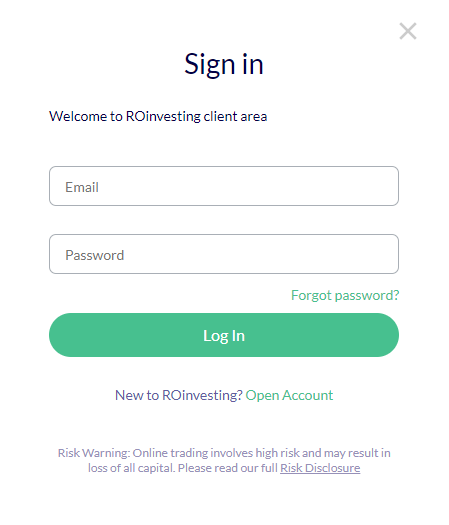 Once you have created an account you can log in at any moment. Follow these steps to log into your account:
Visit ROInvesting and click on 'Sign In', located at the top right-hand corner of your screen.
Enter your registered email and your chosen password, and click on 'Log In'.
If you have forgotten your password, click on the 'Forgot password?' link below the form.
Verification Requirements
In line with its licence, ROInvesting requires all traders to verify their identity before they can make any trades. The platform implements a simple and straightforward verification process that lets you verify your account within a short period of time. You can complete this important step during registration or at a later stage. ROInvesting verification is split into two sections:
Proof of identity – provided by a driving licence, national ID card, passport or residence card.
Proof of residency – provided by a bank statement, utility bill, government document, invoice, residence certificate or tax document.
Once submitted, documents are reviewed by the ROInvesting compliance team. The team normally confirms an account within 48 hours, but the process may take longer depending on the volume of requests.
How to Buy Bitcoin CFDs with ROInvesting
The following example will show you how to buy Bitcoin CFDs using the MetaTrader 4 platform.
Open MetaTrader 4 and log into your ROInvesting account.
Click the 'Market Watch' window and select a CFD which includes Bitcoin, such as BTCEUR.
Fill in the details of the order sheet, including setting Stop Loss and Take Profit limits.
Click on either the 'Buy' or 'Sell' buttons depending on your investment strategy.
How to Cash Out on ROInvesting
Once an order has been opened you can close it, even partially, whenever you wish. To do this, all you need to do is:
Select the 'Terminal' window and find the open position you wish to close.
Right-click on the position and select 'Close Order'.
Click on the yellow line, which contains the order details and the instruction to close.
Once closed, the funds are deposited into your ROInvesting account.
Supported Cryptocurrencies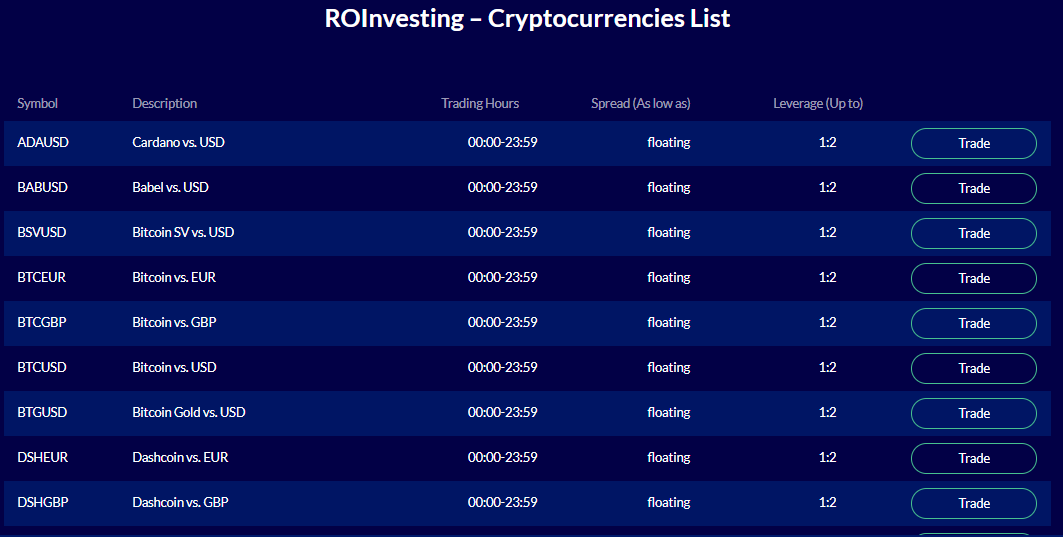 ROInvesting offers a good selection of cryptocurrency CFDs to invest in. It in fact offers 21 different cryptocurrencies to be paired with traditional currencies. What is more, when paired with fiat currencies, each pair (30+) has its own spread and maximum leverage. Amongst the most popular cryptocurrencies you will find:
BTC/EUR
ETC/GBP
ETH/USD
IOT/USD
NEO/USD
LTC/EUR
XRP/GBP
The full list of supported cryptocurrency CFDs is available on the 'cryptocurrency markets' section on ROinvesting's website.
Supported Countries
Supported
ROInvesting is available across the globe with a few exceptions. You can open an account with the platform if you live in the EU, UK, Canada or Australia, amongst many other countries.
Excluded
Since CFD trading is banned in the United States, users from this country cannot create an account with the platform. Users from UN-sanctioned countries are also banned.
————————————
In addition to reviewscenter.net will try to provide their observations and make the best review here. But this monitoring is not complete without your comments, messages and reports. So post your comments on the investment system provided at the end of each post or email reviewscenter.net@gmail.com
NOTE:
reviewscenter.net is not a financial and investment system and it never enter into the investment services's area.
Our main task is to provide the correct payment for hyips and their related data.
reviewscenter.net has no responsibility for your investments.
Do your investment with more observation and investigation.
Is ROInvesting Scam or Not?
Read articles you may want:
everything a beginner needs to know
how to start investing in bitcoins